Greeting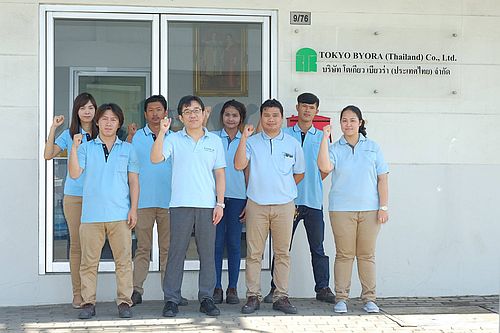 Tokyo Byora (Thailand) have opened a factory in Rangsit, Thailand.
As a result we become more useful for cold heading process manufacturers and cold forging process manufacturers in South East Asia and India who are manufacturing screw, bolt, automotive components and electrical contacts.
Mother company Tokyo Byora Koki Co., Ltd. Started operation on 1961.
Production & sales of Cold heading die and machinery sales were major transactions.
At that time material for heading die was mainly SKD11.
Later at 1980s gradually Tungsten Carbide has been started used as heading die material.
From beginning period, Tokyo Byora Koki Co., Ltd has concentrated
our eyes on hidden possibility of Tungsten Carbide and started die production using Tungsten Carbide.
After 1990 , positively we used the latest electrical discharge machine and made possible to make micro hole process, deep hole process, variant process and micro precision process.
We have lined up products heading die for micro components like the world smallest screw, heading die for TAPTITE screw, Tungsten Carbide punch, Tungsten Carbide press die components, variant Tungsten Carbide components, Titanium alloy, precision components made of Iridium.
Those are a result of our motto " Never say we cannot", complying customer's severe requests.
Now we can supply clearly superior cold forging die in comparison with competitors.
That is "Tokyo-ACE " made by our own unique production Tungsten Carbide die and reported by many mass media.
On 2011, we could realize after long time development 『World's first, Tungsten Carbide mass production by direct carving』
"Tokyo-ACE" production is done by machining center shape processing step together with lapping process on the same time.
As a result , we could shorten traditional electrical discharge machining + lapping process time very much and realized to lower the cost.
As for die quality, we could realize large improvement of life time and it is appreciated by customers.
We produce this "Tokyo-ACE" in Thailand.
In addition, we have used latest Sinker EDM and Wire-cut EDM and can supply Japanese High Quality dies to customer with short lead time.
Sorry to say, for a certain while Tokyo Byora (Thailand) must import most of die material from Tokyo Byora Koki Co., Ltd.
Within 3 years, we try best to arrange all process in Thailand.
September 2015
Hisamitsu Komi
President
Tokyo Byora (Thailand) Co., Ltd.
Press
Wednesday November 1st, 2023 News
We, Tokyo Byora Koki Co., Ltd. and Tokyo Byora (Thailand) Co., Ltd., are proundly to inform you that we will join one of the biggest manufacturing industry exhibition in ASEAN called "METALEX 2023". This will be our second time for this exhibition since 2016. We look forwad to seeing you there. Exhibition:METALEX 2023 -37th Edition Period:22nd(Wed) – 25th(Sat) November 2023, 10AM-6PM Place:Bangkok International Trade and Exhibition Center (BITEC) Information: https://www.metalex.co.th/en-gb/visitor-info/search-for-exhibitors/exhibitor-profile.tokyo%20byora%20koki%20co%20ltd.org-7b75c0e8-fc44-481c-8586-2033a2d41321.html#/ Booth No. AP39