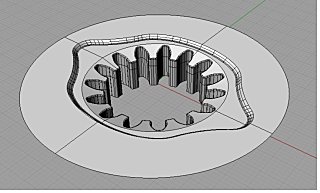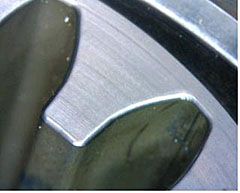 Work material:Tungsten Carbide G6 level
Used processing machine:Micro precision processing machine IQ300 cutting.
Process timing :30 for several hours.
Strong point : Improvement of precision by direct carving and lapless.
Processed R0.3 fillet by direct carving at junction point between gear shape lower hole and taper junction.
By traditional electrical discharge process, as polishing is necessary after discharge, danger is to destroy the shape of fillet.
By using direct carving process, omitting polishing process, it becomes possible to copy process precision 100% to product.
As for sample, except for lower hole we have done all by direct carving process.
But big size like this , it might be possible to process traditional shape electric discharge process and only a portion where specially precision is necessary , should be done by direct carving.